UNM SPA students represent on global stage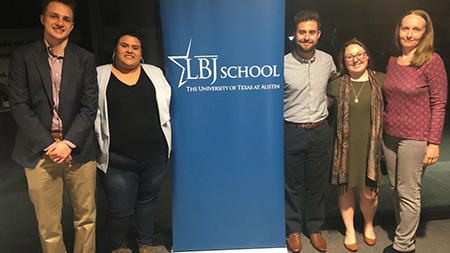 Posted: April 10, 2019
Students from the UNM School of Public Administration (SPA) brought their solutions to the 2019 NASPAA-Batten Student Simulation Competition.
SPA students Justin O'Shea, Cheyenne Trujillo, Kyle Biederwolf, Naomi Stulberg and Zlata Nourie joined 600 other students from 147 universities in 27 countries for the competition.
"We couldn't be prouder of our students," said Bruce Perlman, director of UNM SPA. "Their level of preparation and enthusiasm was really impressive and reflects well not only on the School of Public Administration, but also on UNM."
The Network of Schools of Public Policy, Affairs, and Administration (NASPAA) and Frank Batten School of Leadership and Public Policy established the competition in 2015 to give public policy and administration students a way to gain hands-on education through simulated scenarios. The competition partners with the Center for Leadership Simulation and Gaming (CLSG) to create learning environments based on real-world situations.
Read the full article at UNM Newsroom