Diverse group of professors earn promotion
Posted: January 15, 2019
By Felina Martinez
Twenty-one educators have been promoted to full professors this year, according to an announcement by The University of New Mexico.
The professors are from departments ranging from philosophy to computer science to sociology.
Among them is Dr. Barbara Shaffer, a professor of linguistics whose research interests focus primarily on the study of discourse pragmatics and cognitive theories of interpreting.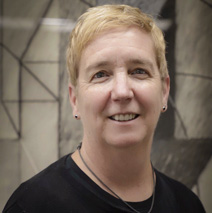 "Earning the rank of full professor is beyond all imagining. My parents didn't get to go to college. I started my education at UNM on scholarship. Now, all these years later, it's almost an overwhelming feeling to have earned tenure and promotion to full professor here at UNM. I'd like to think my parents would be proud, and I hope I can inspire others pursuing post-secondary goals," Shaffer said in an email.
Shaffer said her research interests are heavily influenced by her teaching and service in the undergraduate Signed Language Interpreting Program.
"The majority of my work is in the study of how speakers or signers of a language use the resources available to them (words, phrases, grammar, etc.) to accomplish their communicative goals," Shaffer said.
Her area of expertise revolves around subjectivity and intersubjectivity in discourse.
"As people communicate, they convey information and simultaneously impart their opinions and beliefs about what they say. They are also making online assessments regarding their interlocutors' understanding, gauging what information is shared and what is not shared, in order to shape their discourse accordingly," Shaffer said.
Shaffer said this aspect of linguistics is critical to her research on interpreting. She also focuses on how the addition of an interpreter in a discourse setting can impact the discourse and intersubjective relationships among discourse participants, and, "how interpreters' conceptualization of discourse events shape their interpreted texts," Shaffer said.
Her current research interests include the study of young children's acquisition of intersubjective though and how that understanding shapes their development of the grammar of American Sign Language (ASL).
"My colleagues Naomi Shin and Jill Morford and I are currently working on a project, which received a UNM Women in STEM Faculty Development Award in 2017, on the acquisition of demonstrative pronouns in Spanish and ASL, and the cognitive and social prerequisites for that acquisition," Shaffer said.
Two professors from the computer science department were also promoted, including Dr. Melanie Moses, director of The NASA Swarmathon.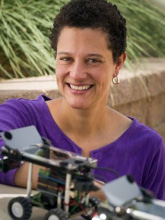 Moses' research interests revolve around the study of cooperation in natural systems, such as ant colonies and the immune system; particularly focusing on what allows natural complex systems to grow so large. She then applies this knowledge into designing autonomously operating robots that can work collectively to complete given tasks.
"By understanding what rules allow large-scale cooperation in nature, we can build stronger immune responses to diseases, build swarms of robots to explore other planets, and maybe even improve the ways humans cooperate with each other here on earth," Moses said in an email. 
Moses' recent research focuses primarily on swarm robotics and computational immunology. As the leader of the NASA Swarmathon, Moses and her team put their research into action by building and programming 100 autonomous robots. These robots are able to work in cooperative teams to search for resources in unmapped environments, demonstrating the largest group of ground robots able to do so. They have opened up this project to the larger community that has had more than 1,000 college students from 44 Minority Serving Institutions.
"My recent publications show that biologically inspired algorithms form the basis for collective robots that can scale to large numbers and adapt to different environments, not just in simulations, but in real robots in outdoor terrains. Our algorithms my one day control robots that gather fuel, food and building materials for astronauts on the surface of Mars," Moses said.
Her research in computational immunology, in collaboration with Dr. Judy Cannon in UNM Pathology, studies how the interactions between cells, signals, and structures of the immune system lead to successful search in complex environments. This research aids in understanding the immune function important to cancer immunotherapy, treatment of autoimmune diseases, and vaccines.
"Becoming a full professor provides an opportunity to influence the culture and priorities of my department and the University. I plan to take this opportunity to pursue a bolder and riskier research program aimed at understanding how ubiquitous computing, artificial intelligence and robotics are shaping our society. I hope also to be a stronger voice for interdisciplinary education and for a more diverse and inclusive environment for students and faculty in STEM," Moses said.
Sociology professor Nancy López was also promoted this year.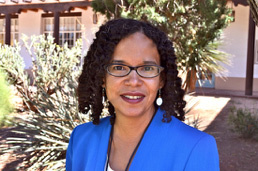 "My promotion to full professor in the sociology department is a very meaningful to me because it reminds me about the urgency of advancing equity and inclusion in academia. I am the first woman of color tenured in the history of Sociology Department, and I am also the first woman of the African diaspora (AfroLatina/Dominican) tenured in the College of Arts and Sciences—the largest college at UNM," López said in an email.
Lopez' research interests revolve around intersectionality; particularly the importance of examining the simultaneity of tribal status/settler colonialism, gender/patriarchy, race/structural racism, class/capitalism, sexual orientation/heterosexism, disability/ableism, citizenship/nativism and other systems of power, "for interrogating and rectifying social inequalities and opportunity structures across a variety of social outcomes, particularly in education and health. Interdisciplinarity, engaged scholarship and public sociology for interrogating social inequalities and advancing social justice are the hallmarks of my work," López said.
Her scholarly contributions and research all aspire to create synergies between scholarship, teaching, and community engagement.
López has come to be nationally recognized this year for her contributions from the American Sociological Association where she was awarded the 2018 William Foote Whyte Distinguished Career Award for Sociological Practice and Public Sociology. More recently, López was elected as the secretary-elect of the American Sociological Association from 2018 to 2021, and as vice president for Sociologists for Women in Society, where she will serve a two-year term starting in 2019.
López' work has also received support from the National Institutes of Health (NIH), Sociological Insights Foundation (SIF), and the RWJF Center for Health Policy. Her work has since traveled beyond academia to venues such as the Scholars Strategy Network (SSN), The Conversation.com, and most recently at TedexABQ, where López gave a Spanish presentation on the urgency of an accurate count for the 2020 Census in regards to the addition of a citizenship question, as well as the importance of not confusing race/street-race and origin. To see the full video, click here. 
Currently, López continues to collaborate with Albuquerque Public Schools and UNM on the Ethnic Studies Education and Health (ESEH) Research Practice Partnership (RPP) which, established in 2016, aims to co-produce projects that identify the mechanisms that empower youth, teachers, and community.
Their first research project revolves around a case study which follows the inclusion of ethnic studies in a large urban public school district in New Mexico.
"This past year we conducted teacher workshops, in-depth interviews, and focus groups with veteran and recent ethnic studies high school teachers. Our guiding theoretical frameworks include critical race theory, which focus on the endemic and ever-changing manifestations of structural racism/white supremacy and intersectionality or attention to the simultaneity of race, gender, class, sexual orientation as systems of inequality and resistance," López said.
Citing critical race intersectional ethnic studies and and critical pedagogy as a potential mechanism for reducing inequality as being implemented across the nation, López and her team are now in preparation for a submission to the WT Grant Foundation in May 2019 through the National Network of Research Practice Partnerships. López and her team are in collaboration with colleagues in Los Angeles and San Francisco, California for a grant proposal on a multi-site study on the implementation of ethnic studies through intersectionality.
"We will be presenting our research at the 2019 American Educational Research Association (AERA) Annual Meetings in Toronto. We are also preparing several co-authored peer reviewed manuscripts that focus on intersectionality, critical pedagogy, health and implementation policy," López said.
For more information on their community based participatory research, click here.
"It is my hope that my scholarly, teaching and community engaged work change the conversation, policies, and practices that center the lives of marginalized groups," López said.
"We continue to get inquiries from across the country from other universities that would like to replicate what we are doing. Our race and social justice interdisciplinary graduate certificate (5 classes; 4 different departments) is the first in the country; we resubmitted the undergraduate version in October and it is currently being reviewed (4 classes; 3 different departments). With your help, we can continue to cultivate interdisciplinary hubs of innovations in interdisciplinary race and social justice scholarship, teaching and community engagement for the next ten years," López said.
Currently, there are only two other tenured Black women faculty in the college of arts and sciences. López says this reality is the case for many racially stigmatized women of color who are usually the sole, or one of few, visible minority women in their departments. 
"I look forward to working collaboratively with UNM partners across multiple disciplines, colleges, and administrative structures to finding solutions that strengthen our commitment to inclusive excellence or the idea that inclusion and excellence are inseparable endeavors as well as a moral imperative," López said.
Other professors who earned promotion this year include:
Dimiter Vassilev, Mathematics and Statistics
Robert Xin Luo, Marketing, Information Systems
Alyosha Goldstein, American Studies
Eric Denkers, Biology
Donald Lee Taylor, Biology
Christopher Witt, Biology
John Grey, Chemistry
Rajeshwari Vallury, Foreign Languages and Literatures
Matthew Blair, Mathematics and Statistics
Mary Domski, Philosophy
Keith Lidke, Physics and Astronomy
Arash Mafi, Physics and Astronomy
Kristin Barker, Sociology
Christopher Lyons, Sociology
Cheryl Torrez, Educational Leadership
Claudia Isaac, Community and Regional Planning
Jedidiah Crandall, Computer Science
Shuang Luan, Computer Science