UNM A&S Advising Africana Studies Letter of Support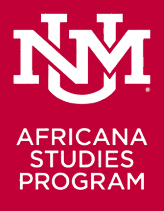 Posted: May 7, 2020
We, undergraduate advisors of the College of Arts & Sciences, stand in firm solidarity and support of the Africana Studies program. Like other UNM groups have already expressed, we too unequivocally denounce the disturbing and hateful threats of racial violence targeted towards the Director of Africana Studies program, Dr. Charles Becknell, and his family.
We want to be ultra-clear: we take this attack personally. The Africana Studies Program is housed in the College of Arts & Sciences. As such, we work closely with the faculty, staff, and students daily. We are disgusted with the racialized language that was sent through website forms, email, and social media to the Africana Studies program. As UNM staff, we are deeply sympathetic to the UNM staff members who had to wake up to these ugly messages of hate.
We stand with all those who identify as Black, African, African-descended, African American, and people of color at this university who once again must contend with another form of racism; this time a threat of bodily harm. Whether a racialized microaggression by a student or an anonymous death threat, the UNM community must NOT tolerate our peers feeling unsafe. We stand in complete support of the NAACP's call for a full investigation to hold the perpetrators accountable for their racist hate, and for the fear and hurt that they have caused.
Our primary response to this traumatic moment is to praise, honor, and highlight the Africana Studies Program at the University of New Mexico. Africana Studies faculty continuously develop innovative, critical, and creative coursework. Africana Studies students have brilliant degree plans combining Africana Studies with departments across campus including social sciences, nursing, education, fine arts, cinema, and others. Our graduates of this program have moved on to become artists, lawyers, youth advocates, college staff, counselors, teachers, business owners, scholars, activists, and informed members of society. We are grateful and proud of the Africana Studies program for all that it does for the local, national and global understanding of Africa and African descended peoples.
In conclusion, as Academic Advisors are wont to do, we offer some advice: as a form of support, we encourage any and all UNM students, staff, and community members to enroll in Africana Studies courses. We encourage our fellow advisors across the university to discuss Africana Studies courses and programs with your students and how Africana Studies can complement any degree plan. We would also like to inform everyone about the undergraduate Arts & Sciences Race and Social Justice Certificate. UNM staff, undergraduates, and community members can earn this certificate by taking approved courses focused on race from any of the UNM departments and programs.
Contact us to learn about courses and programs that can further your knowledge and understanding of race. Education is the ultimate tool to confront racism.
Signed,
| Advisor | Title | Advisement Area |
| --- | --- | --- |
| Farah Nousheen | Sr. Academic Advisor | The "Studies"- Africana, American, Asian, Chicana/o/x, International, Latin American, Religious, Women, Peace & Justice Studies, Sustainability Studies, Race & Social Justice |
| Manuel Lopez | Sr. Academic Advisor | Anthropology, History, Museum Studies |
| Danielle Berrien | Transfer Education Specialist |   |
| William A. McClary | A&S Advisement Supervisor | Social & Behavioral Sciences |
| Jacobie Webb | Sr. Academic Advisor | Signed Language Interpreting, Speech and Hearing Sciences, and Linguistics |
| Oceana Black Elk | Admin Assistant III |   |
| Kelly Neuschwanger | Sr. Academic Advisor | English and Philosophy |
| Jennifer Serrano | Sr. Academic Advisor | Psychology |
| Karen Majors | Sr Academic Advisor | Varies |
| Sarah Peceny | Sr Academic Advisor | A&S Accelerated Online Programs |
| Keelan O'Riley | Sr. Academic Advisor | Chemistry, Biochemistry, Mathematics, and Statistics |
| Amanda Cook | Sr. Academic Advisor | Chemistry, Biochemistry, Mathematics, and Statistics |
| Catherine Montoya | Sr. Student Success Specialist | Native American Studies |
| Azure Leyba | Sr. Academic Advisor | Psychology |
| Ryan Edgington | Sr. Academic Advisor | Psychology |
| Fern Nita Kelly | Sr. Academic Advisor | Sociology & Criminology |
| Chris Lynch | Sr. Academic Advisor | Sociology & Criminology |
| Cameron Langner | Sr. Academic Advisor |   |
| Cory Munoz | Sr. Academic Advisor | Communications & Journalism |
| Meghan Lippert | A&S Advisement Supervisor | STEM |
| Maggie Sumruld | Sr. Academic Advisor | Earth & Planetary Science, Environmental Science, Geography, Physics & Astronomy |
| Stephanie Hands | A&S Advisement Director |   |
| Kate Merrill | Sr. Academic Advisor | Classical Studies, Comparative Lit & Cultural Studies, East Asian Studies, French, German, Languages, Portuguese, Russian & Spanish |
| Victoria Lobato | Sr. Academic Advisor | Communication, Journalism & Mass Communication |
| Brenna McJimsey | Sr. Academic Advisor | Biology |
| Tyler Clayshulte | Sr. Academic Advisor | Biology |
| Maria Held | Sr. Academic Advisor | Biology |
| Elizabeth Yung-Fong Hemphill | Student Recruitment Specialist |   |
| Guinevere Beard | Academic Advisor |   |
| Nathanael Faust Shucker | Sr. Academic Advisor | Economic, Political Science |