Arts & Sciences (almost) sweeps Teaching Awards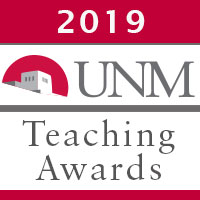 Posted: May 22, 2019
The Center for Teaching and Learning presided over the annual teaching awards earlier this month, awarding Tamar Ginossar from the Department of Communication and Journalism with the 2019-21 Presidential Teaching Fellow, and recognizing Bethany Davila and Cristyn Elder from the Department of English as outstanding teachers of the year.  
The ceremony also welcomed "New Teachers of the Year" Noah Painter-Davis, Department of Sociology, and Marygold Walsh-Dilley, Honors College and Department of Geography.  Many other deserving recipients were recognized in a number of categories, including: Julianne Newmark and Amy Gore, Department of English; Debra Nieto and David Paez, Department of Spanish & Portuguese; Reuben "Jack" Thomas, Department of Sociology; Andrea Mays, Women Studies; Jillian Stafford and Diana Habel-Rodriguez, Department of Chemistry & Chemical Biology; and Patricia Oakley, Department of Mathematics & Statistics.  
Congratulations to all award winners for their enormous contributions to our students and the University.