Hamilton joins UNM research leadership team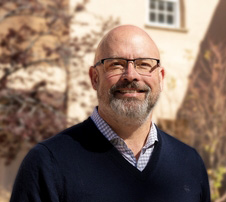 Posted: January 9, 2019
Following a competitive search, Derek A. Hamilton has been named assistant vice president for research at The University of New Mexico effective Jan. 1, 2019.
"I am very pleased that Dr. Hamilton agreed to join UNM's research leadership team," said Gabriel López, vice president for research. "Research is integral to our mission at the University and we have many exciting opportunities ahead. With Hamilton's expertise and experience, I am confident he will contribute greatly, and I look forward to working with him to advance our research agenda."
Hamilton is a behavioral neuroscientist, specializing in the study of learning, memory and brain plasticity. His research examines the behavioral and neurobiological effects of exposure to alcohol, and his current work evaluates interventions to improve learning and memory deficits associated with exposure to alcohol during brain development. Hamilton's work has been reported in 75 peer-reviewed publications and has been funded by the National Institutes of Health continuously since 2006.
Read the full story at UNM Newsroom