Joseph Boyd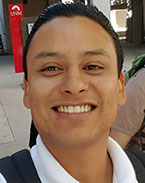 IT Technical Analyst
Section: 

Service Center

Email: 
Area/s of Responsibility
Personal Statement:
Joseph Boyd started working with ASTech as a student employee in November of 2015. He has since then graduated with honors from the College of Fine Arts IFDM program concentrated in film production.
Prior to attaining his bachelor's degree with UNM he earned an associate's degree in computer information systems with a concentration in digital media at CNM.
Joseph has 15 plus years' experience in technical support and a reputation of great customer service.
Joseph's familiarity with the College's diverse academic and administrative needs is critical to analyzing and supporting our changing and evolving needs. His expertise in audio and visual technologies helps when working with faculty across the college in setting up departmental spaces for hybrid and remote classes. Joseph enjoys helping people solve their technical issues and is always willing to offer his assistance.
When Joseph isn't smashing control alt delete erratically, he is spending time with his two sons or being a creative genius.