Physics and Astronomy student Lauren Zundel awarded New Mexico Space Grant Undergraduate Research Scholarship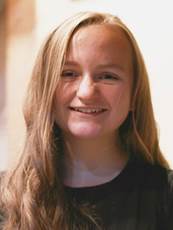 Posted: December 8, 2017
Undergraduate Lauren Zundel has been awarded the New Mexico Space Grant Undergraduate Research Scholarship. This award will give Zundel the resources to better understand the optical response of arrays of nanostructures, with applications in solar energy harvesting and biosensing.
"It's very exciting and a great honor to receive this award," said Zundel, a junior in the UNM Physics and Astronomy Departmrnt. "It feels really amazing knowing that the work I do and enjoy so much is contributing to the advancement of both technology and fundamental knowledge about physics—and that it's important enough that NASA cares about it too!"
Zundel's research looks at how the behavior of arrays of nanostructures changes as the number of structures is increased. This is something worth investigating because it's quite convenient (and common) to assume infinite arrays for simulations and calculations—but there is no such thing as a truly infinite array. Zundel wants to discover how big a system needs to be before it can be considered "infinite." This research can help in designing systems that absorb light well, which is useful for solar energy harvesting.
Related Link: Full story at UNM Newsroom