Center for Quantum Information and Control receives multi-million-dollar award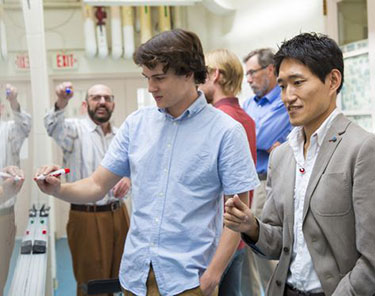 Posted: October 5, 2016
Quantum information science is going to change the world. Being able to manipulate and control individual atoms and other microscopic systems to do jobs in communications, sensing and computation will have an impact on nearly every aspect of our daily lives. And, for the University of New Mexico's Center for Quantum Information & Control (CQuIC), a new multi-million-dollar grant will allow UNM to continue at the forefront of this innovative field.  
"Our particular emphasis is on control of the behavior of quantum systems," said Carlton Caves, Distinguished Professor of Physics & Astronomy and the Center's director. "Broadly speaking, we are involved in trying to make systems at the microscopic and nanoscopic level do jobs that we want them to do, instead of just doing what comes naturally."
The $2.2 million, five-year award from the National Science Foundation makes CQuIC a Focused Research Hub in Theoretical Physics, one of only two in the United States. It's not only an exciting designation, but it will allow UNM researchers the opportunity to delve more deeply into quantum science and to make new progress toward the goal of quantum computing.
Related Link: Read the full story on UNM News