2017 DC Interns - Fred Harris Internship Program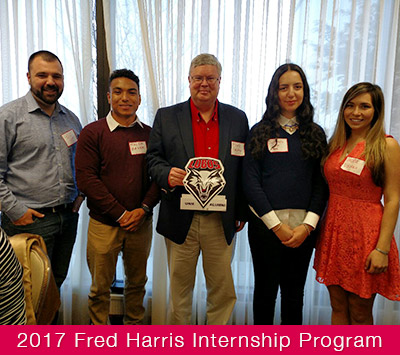 Posted: March 7, 2017
Dean Mark Peceny attended the Washington DC UNM Alumni Chapter Lobo Day Brunch on Sunday, February 26. Over 50 UNM Alumni living in the DC Area were able to connect with the Dean and were thrilled to receive a campus update.

Also in attendance were several of the Fred Harris Congressional Interns. (Pictured here with Dean Peceny From left to right: Joshua Spann, Malik Baker, Isabella Del Frate and Jacqueline Luchini. Also in attendance were: Ryan Ansloan and Aubriana Knell) The internship program is based at the Department of Political Science where the Dean served formerly as Chair. Most of the students are Political Science majors and some have taken classes with the Dean so they enjoyed a happy reunion with a previous instructor.

The event took place at the Fort Belvoir Officers' Club and was hosted by long time DC UNM Alumni Chapter President Larry Harris '64.
Dr. EllenGrigsby - Director-designate for the program
"Any student interested in experiencing the fast-paced  and sometimes unpredictable world of the U.S. Congress while also living in one of the most cosmopolitan and fascinating cities in the United States is invited to learn more about our program.  The Fred Harris Internship is open to students of all majors."
Some quotes from the Interns
Malik Baker
"Having the opportunity through the Fred Harris Internship to learn and work on Capitol Hill has been extremely rewarding both professionally and academically. I've learned a lot thanks to this program and I can't wait to use what I've learned to give back to my community."
Aubie Knell
"The Fred Harris Congressional  Internship Program has not only given me invaluable work experience and allowed me to make countless connections, but has also solidified my interest in the political realm. I have loved this program and strongly encourage anyone interested in politics and policy work to apply for this internship."
Jackie Luchini
"Words cannot capture how truly blessed I am for this amazing opportunity to learn about the congressional and legislative processes   and to learn from Senator Fred Harris himself. This once in a lifetime opportunity pays for our housing and gives us a $1000 stipend (which I otherwise would not have been able to afford without loans).  Every day spent in this program, I am thankful for this opportunity that has changed my life forever."
Ryan Ansloan
"The chance to spend my final semester at UNM interning in Washington, D.C. is something that had never crossed my mind when I first enrolled. But if there is one thing I have learned throughout my time as a Lobo, it is that there is absolutely no limit to the opportunities available to you. Every single day I walk by the Supreme Court and the U.S. Capitol Building. On the weekends, I visit the Smithsonian. My homework is to write about legislation being crafted in the office I work in. There's no way I could have imagined that this is what I'd be doing but UNM made it possible and I can't fully put into words what this internship has meant. No matter where I end up in my life, I'll always remember this time and I'll always be a Lobo."
Isabella del Frate
"The Fred Harris Internship makes it possible for students in the university to participate in a capitol internship program with financial assistance. By doing this,  students who come from all different types of backgrounds are able to participate in federal government and possibly search for a career before they graduate from UNM."
About the Internship
Beginning with the 2006 fall semester, The University of New Mexico established a scholarship program to allow its students to travel to Washington, DC to learn firsthand how federal policy is formulated in our nation's capital. The program's objective is to provide undergraduate students who have an interest in public policy the opportunity to participate in public service by observing and contributing to the policy-making process. The internship experience helps students understand the challenges and rewards of public life and develops their leadership skills.
Each semester, up to five selected interns travel to Washington, DC to work in NM delegation member offices. We anticipate many will use their internship experience as a springboard into careers in our nation's capitol, while others will choose to continue their education by entering into graduate school.
more information...