2016 Regents' Lecturer Award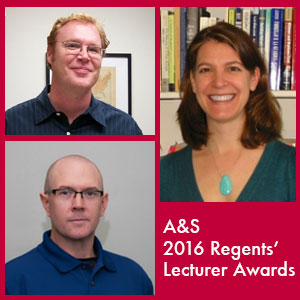 Posted: November 16, 2016
The College of Arts and Sciences is pleased to announce the recipients of the 2016 Regents' Lecturer Award. 
Regents' Lecturer is a special title bestowed on selected tenured faculty members who, in the judgment of the Dean and on the advice of a faculty selection committee, merit recognition of their accomplishments in the areas of teaching, scholarship and leadership in both university affairs and national/international professional communities.
The three Regents' Lecturers appointed for the period 2016-2019 are:
Professor Cathleen Cahill, Department of History
Prof. Cahill joined the department of History in 2004 as a historian of the U.S. and U.S. West. Her areas of interest include the intersection of race, labor, gender and place in the U.S. Her teaching and research interests include US/US West, native and indigenous peoples, the environment, race, women, and gender, as well as the social history of the Gilded Age and Progressive Era. Prof. Cahill was awarded a Newberry Fellowship in 2013, and has an extensive publication record including a number of works in press.
Read more about Cathleen Cahill at http://history.unm.edu/people/faculty/profile/cathleen-cahill.html
Professor Alyosha Goldstein, Department of American Studies
Prof. Goldstein's research interests include the study of globalization, neoliberalism, and social movements; comparative histories of imperialism, colonialism, and nationalism; modern liberalism and twentieth-century political culture; critical race and indigenous studies; the history and politics of public health; and social and political theory. Prof. Goldstein has an impressive publication record and is currently working on his second book manuscript.
Read more about Alyosha Goldstein at http://americanstudies.unm.edu/people/faculty/goldstein.html
Professor John Grey, Department of Chemistry and Chemical Biology
Prof. Grey and his research group research the structure-function relationships in organic semiconductor materials from the nano- to microscale size ranges. He is particularly interested in conjugated polymer molecules that are candidate materials for use in field- effect transistors, light-emitting diodes and solar cells. Prof. Grey has received a prestigious NSF CAREER award, and has built a substantial and internationally recognized record of research and publications.
Read more about John Grey at: http://chemistry.unm.edu/people/faculty/members/john-grey.html
The Dean and College faculty congratulate these awardees for the many contributions they have made over the years to their departments, the University and their disciplines.