UNM scientists to help lead 280-mile geoscience conference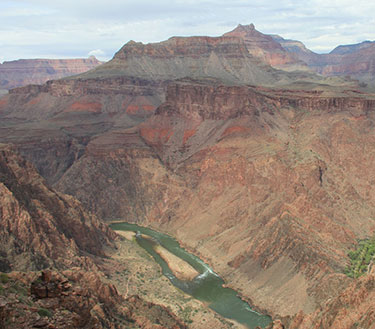 Posted: September 9, 2019
A Geological Society of America (GSA) trip down the Colorado River to commemorate the 150th anniversary of J.W. Powell's first expedition – what have we learned in the past 150 years – is set to launch Saturday, Sept. 14.
The eight-day, 280-mile field geoscience conference by raft through the Grand Canyon, aptly titled Age and Carving of Grand Canyon: Towards a Resolution of 150 Years of Debate, will be led by several notable scientists including University of New Mexico Professors Laura Crossey and Karl Karlstrom.
The age and evolution of the 1.6-km-deep, 270-mile-long Grand Canyon have been debated since Powell's exploration of the Colorado River in 1869. This GSA Thompson Field Forum honors the 150th anniversary of Powell's trip. It involves 28 researchers and young scientists who will discuss the evidence for the age and incision history of Grand Canyon in the context of recent advances and ongoing debates.
Read the full story at UNM Newsroom