About our Mission & The Support Staff
Our mission is to assist and guide our students in their pursuit of an Arts & Sciences Degree.
We are here to collaborate with the diverse community of students in a dynamic learning environment, developing tools and strategies to navigate their academic careers with confidence and efficiency, while also providing them with a way to translate those skills into lifelong practices.
Our Staff
Stephanie Hands
Director
Stephanie has been at the University of New Mexico since she was 19 years old. She grew up on campus and in advisement. She previously supervised the University College Advisement Center and then moved to Arts and Sciences in 2004. She has a Bachelor's in Psychology and an MBA from Anderson School of Management. Her goal is to continuously improve Arts and Sciences Advisement Center's practices and policies to enhance the experience for the students. She believes that advisement is an active partnership between students, staff and faculty.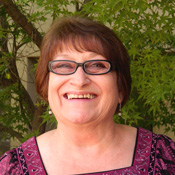 Julie Bustamante - Humanities and Interdisciplinary Studies
Coordinator
I have been a part of the UNM community for many years. Currently, I am an Arts & Sciences Advisement Coordinator. My weekends are spent gardening, rock hounding and caring for my bee hive.
William McClary - Social and Behavioral Sciences
Coordinator
My life as a Lobo has resulted in many rewarding educational and professional experiences. I earned both my undergraduate degree in Journalism and graduate degree in American Studies from the University of New Mexico (UNM). I have advised several types of student populations and interpreted various degree programs for nearly six consecutive years at UNM. My admiration for corresponding academic success with effective advisement practices has afforded me the privilege of enhancing student achievement by remaining committed to the transformative stages of aspiring scholars. In the position as a Student Advisement Coordinator for the College of Arts & Sciences, I aim to help structure an atmosphere that is conducive to the many aspects of higher learning.
Our Work Studies
Anwaar Abdelrariahman
Josiah Martinez
Melinda Quintana
Vanni Valdez Quezada