How we can support our students
The College of Arts & Sciences provides advisement in various delivery options: group workshops, prescheduled one-on-one appointments,  walk-in visits.  Below we cover each of the offerings in more detail. We only require workshop visits.  We believe that your relationship with your advisor should be defined by you - this includes frequency of visits (although we recommend once a semester) and topics discussed in the sessions.  All one-of-one visits are optional but encouraged.
Your Academic Advisor Can Help You...
Make a plan for your undergraduate education and beyond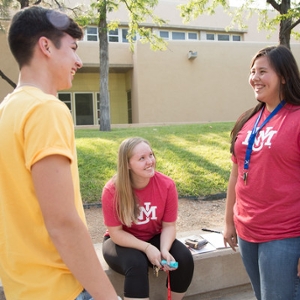 Figure out which classes to take next
Balance the different requirements of a UNM degree so you can graduate on-time
Understand the purpose of your degree and how it will fit into your overall career
Connect you with on-campus resources to discover, explore, and land your dream career
Guide you when you are unsure of your next step
Prescheduled One-on-One Appointments
All advisors offer appointment times strategically throughout the week.  These are typically 30 minutes in length but on occasion we may suggest a full hour appointment.  Topics that you may want to consider 2-30 minute slots are initial transfer student appointments (scheduled in the months prior to your first semester), initial probation appointments, returning from suspension appointments.
A&S prefers in person interactions but realize that some of students do not have the ability to come on campus for their visit.  Students that are out of state, students that are studying abroad, or entirely online students are encouraged to call the front desk at (505) 277-4621 to schedule a phone or skype appointment.  If there is an extenuating circumstance that precludes you in other ways from coming in, email your advisor for options. 
Walk-in Visits
In a perfect world you would be able to schedule an appointment within a day or two when ever the need arose.  Since we unfortunately do not live in a perfect world, the Advisors of A&S hold specific times during the week that you can be seen on a first come first serve basis.  Walk in sessions serve the student's with either quick questions or with an acute need. They can be limited in time and scope, you may have to wait quite a while for your 15 minutes with your advisor.  There are some issues that cannot be resolved in walk-in sessions.  These include but are not limited to holds (attached to workshops) and degree plans (too time intensive). If it isn't something we can resolve in the walk in then we will assist you in scheduling the right kind of follow up visit.
Group Workshops
The College requires visits at critical transition points in a student's academic career.  Each visit is intended to ensure that you are equipped with specific information to be able to move forward while getting the most out of your college experience.  Our advisement model embraces the Advising as Teaching and Learning Philosophy.  in that spirit, we have designed specialized workshops that cover the benchmarks of every stage of your academic career.  While the following are the only mandatory visits we require of all students, it is always encouraged to meet with your advisor more.
.