Welcome to the Arts & Sciences Center for Academic Success!

The College of Arts and Sciences is the academic heart of
The University of New Mexico.
The College of Arts and Sciences (A&S) is UNM's largest college with 50+ programs of study in the humanities, social/behavioral sciences, natural sciences, and mathematics fields. Most academic disciplines have their home in A&S - everything from Africana Studies to Earth and Planetary Sciences to Signed Language Interpretation.
The mission of the Arts and Sciences Center for Academic Success (ASCAS) is to assist and guide our students in their pursuit of an Arts & Sciences degree. We collaborate with our diverse community of students in a dynamic learning environment. We help students develop tools and strategies to navigate their academic careers with confidence and efficiency, while also providing them with a way to translate those skills into lifelong practices.
We are here for you
In the Arts & Sciences Center for Academic Success (ASCAS), we firmly believe that we are partners with our students. Our Academic Advising philosophy includes meeting you where you are so you can achieve your vision of success.

Together, we embark on an educational journey. We are the navigators while students students are the drivers. We educate our students on pathways to degrees by providing students with strategies, tools, and resources to support their progress. We help students understand ways to enhance their degree by connecting them with opportunities in their departments and across campus, including research and financial aid.
We do not choose what you do, but we may suggest options given your interests and goals. You make all final decisions, but we are here to support you in whatever way we can.
We Advise - You Decide.
What we offer
ASCAS provides advisement in multiple ways: one-on-one appointments, advisement workshops at milestone points in your undergraduate academic journey, and student support seminars for both incoming students and those who find themselves having difficulty balancing the multiple demands of college and life.
We also offer monetary support through a Student Success Access Grant for students who are struggling financially to either pay for their education, or are lacking tools for success due to financial constraints.
We do not require many visits from you, as we believe that your relationship with your advisor should be defined by you. This includes frequency of visits (although we suggest once a semester so you can learn more about your options at UNM and build a relationship with your advisor) and topics discussed in advisement sessions.
Your Academic Advisor Can Help You...
Make a plan for your undergraduate education and beyond
Figure out which classes to take next
Utilize research or departmental opportunities in your degree plan
Balance the different requirements of a UNM degree so you can graduate in a timeline that works for you
Understand the purpose of your degree and how it will fit into your overall career
Connect you with on-campus resources to discover, explore, and land your dream career
Guide you when you are unsure of your next step
---
Where are we?
Our advisors have their offices in the departments of the students they serve, but ASCAS is our "hub" and you can always ask our center where to go for your individual needs.
Find an A&S Advisor by Programs of Study
University Advisement and Enrichment Center (Building 85)
Suite 135
Monday - Friday, 8 am - 5 pm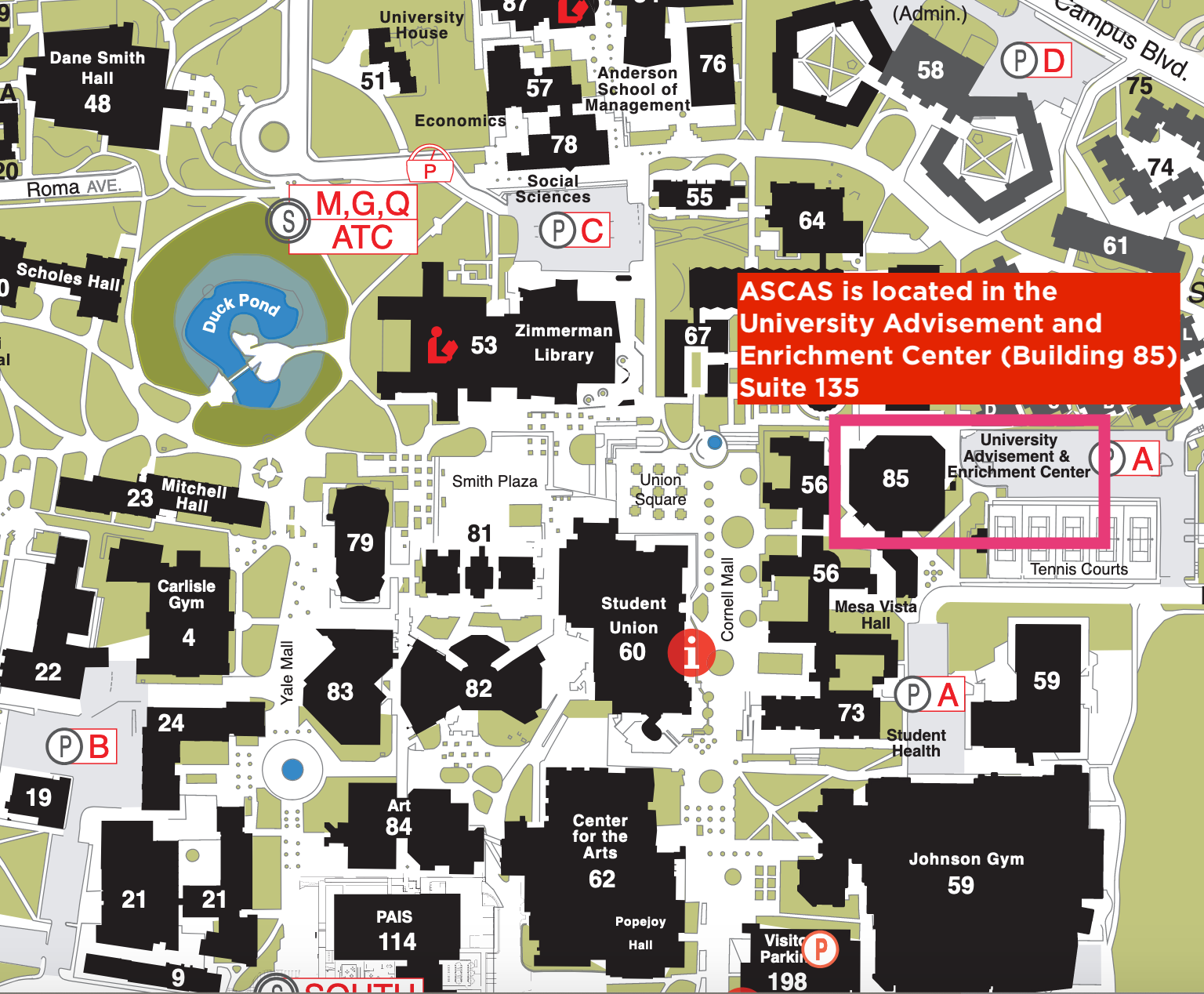 A&S Advisement LoboChat Podcast
Former A&S Advisor Karen Majors talks with different student services around campus to give you a more in-depth and personal understanding of services available to students.