UNM gave grad a degree and a new family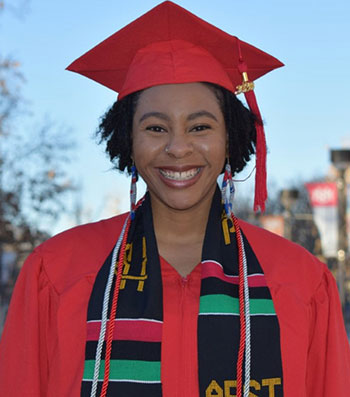 Posted: December 22, 2020
It was soon after her 30th birthday that Beth Glenn woke up one night and told herself "I have to do something different." A fan of the series 'Breaking Bad,' which was filmed in New Mexico, she decided Albuquerque looked intriguing, so she packed up, moved, and started studies at The University of New Mexico. She graduates this week.
"I am from St. Louis, Missouri originally and came here because something spiritual led me to New Mexico. I still can't explain it, but I am glad that it did," she said. "I started this journey thinking that this degree was just for me and for my dreams. I have since learned that this degree is for my entire family. For my father who didn't live to see this day, for my mother who worked several jobs at times just to take care of me and my brothers, for my brothers who always believed in me, and for my nieces and nephews to see that they can do it too."
Read the full story at UNM Newsroom.