Gutzler honored with 4th annual Community-Engaged Research Lectureship Award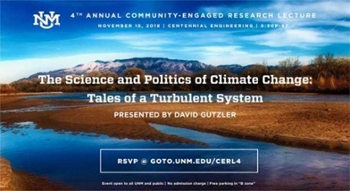 Posted: November 1, 2018
Each year, the Faculty Senate Research Policy Committee seeks nominations of faculty from all colleges at The University of New Mexico for the Annual Community Engaged Research Lectureship (CERL) Award, which demonstrates the interaction between higher education and their communities. The CERL is one of the highest honors that UNM can bestow upon a faculty member in recognition of one's community engaged research and creative activity.
David Gutzler, a climatologist in the Department of Earth and Planetary Sciences, is a renowned scholar in the field of climate science working on the dynamics of the atmosphere, climate change and its effect on the biosphere, land surface, water resources and climate prediction. His work has focused on improving modeling and predictions of the North American monsoon, and understanding the impacts of climate variability and change in the Southwest. These topics are of broad interest and importance to New Mexico.
As part of the honor, Gutzler will present a lecture titled, "The Science and Politics of Climate Change: Tales of a Turbulent System," on Thursday, Nov. 15 from 5:30 – 8 p.m. in the Centennial Engineering Auditorium.

To RSVP for the lecture, visit 4th annual Community Engaged Research Lecture or click on the image below. The lecture is free and open to the public.
For the full story, visitGutzler honored with 4th annual Community-Engaged Research Lectureship Award