Deaf Interpreter for the Governor graduate of UNM's Department of Linguistics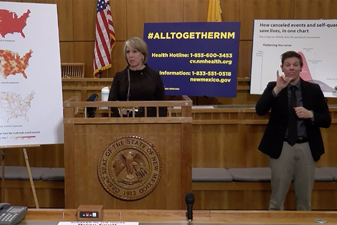 Posted: March 2, 2020
Nixo Lanning has become a local icon overnight, standing alongside New Mexico Gov. Michelle Lujan Grisham and Albuquerque Mayor Tim Keller and interpreting valuable information for the deaf community.
She is also one of only a handful of deaf interpreters in New Mexico – making her a valuable resource during this time when communication to all members of the community is essential.
"Although this is a difficult time, it also opens doors to remind people that deaf interpreters are available as resources," she said, speaking via three-way video chat with a hearing interpreter. "I'm happy to see the State of New Mexico is valuing and respecting its deaf community through using deaf interpreters, and I hope other states pick up on that and learn from how New Mexico is creating access for the deaf community. That kind of connection needs to happen more on a national level.
Deaf Interpreters are language specialists who are able to bring a more natural interpreting to the deaf. Being deaf themselves, deaf interpreters understand the more colloquial signs and deaf cultural awareness. As opposed to their hearing interpreter counterparts, they are able to more naturally bridge communication between spoken and signed language.
Read the full story at UNM Newsroom