Tannor Brown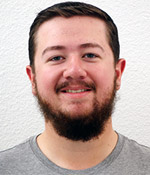 IT Technical Analyst I
Section: 

Administration

Email: 

Phone: 

505 277-2748

Office: 

PAIS 3245
Personal Statement:
Tannor Brown has had a successful history as an employee supporting the College of Arts and Sciences.
He began his time working in the college working with the department of Biology before eventually becoming a student IT support tech within Campus Outreach and Engagements Arts and Sciences group.
Before joining us full time as a Technical Analyst, Tannor graduated with Bachelor's degree from Anderson School of Management.
He works with the college's analyst team to provide technical services, security, and insight for the college's diverse academic and research areas.
When not in the office he spends his time working on cars or gaming.