Sarah Peceny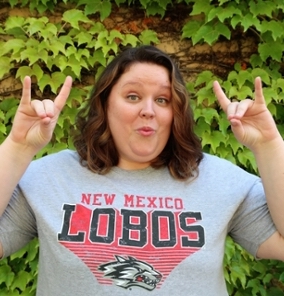 Senior Academic Advisor
Email/s
Location: UAEC Bldg 85, Suite 135
Advising Philosophy
You don't know what you don't know until you know – so, all you have to do is ask! Lack of support and understanding, whether it be institutional, academic, technological, financial, emotional, etc., is often one of the greatest roadblocks to succeeding in higher education. I see it as my job to help guide you, the student, in understanding institutional information and requirements and share information on available resources, which can help you make educated decisions and navigate your own experience here at UNM!
About Me
The University of New Mexico has played a significant role in my entire family's life. In fact, I grew up in Albuquerque and on UNM campus (from the age of 5 years old) due to the fact that my father received a faculty position here at UNM way back in 1992. My family has been here ever since, and all of us have benefited from the amazing opportunities that this institution has to offer!
I received a BA in Latin American Studies and Spanish and later returned to complete my MA in Hispanic Linguistics. I spent time here as an undergraduate student teacher, a graduate teaching assistant, and finally as a Visiting Lecturer I and Assistant Program Coordinator in UNM's Spanish and Portuguese Department where I created and taught both face-to-face and online courses in lower-division Spanish. I am very excited to now occupy the role of Academic Advisor, so that I can continue to teach and serve UNM students and watch them pursue their dreams and reach their full potential, just as I did!
Majors/Minors Advised
Accelerated Online Programs (AOPs)