Mission & Advisement Administration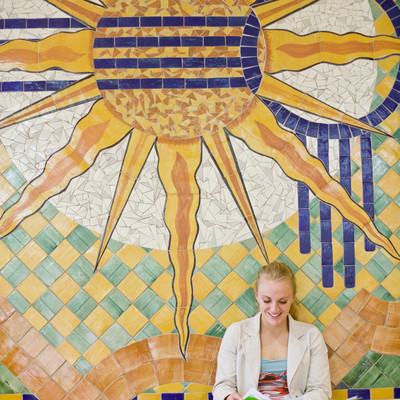 The College of Arts and Sciences is the academic heart of The University of New Mexico.
The College of Arts and Sciences (A&S) is UNM's largest college with 60+ programs of study in the humanities, social/behavioral sciences, and STEM fields. Most academic disciplines have their home in A&S - everything from Africana Studies to Earth and Planetary Sciences to Signed Language Interpretation.
Our mission is to assist and guide our students in their pursuit of an Arts & Sciences degree. We collaborate with our diverse community of students in a dynamic learning environment. We help students develop tools and strategies to navigate their academic careers with confidence and efficiency, while also providing them with a way to translate those skills into lifelong practices.
Schedule an appointment through Loboachieve or asadvise@unm.edu to explore how you can find success in A&S! 
Our Staff and Structure
Our office consists of 20+ Academic Advisors, one Director, three Supervisors, transfer and first-year recruitment/retention specialists, an Education and Development Manager, one administrative assistant, and work study student employees.
Advisors operate decentrally within their departments for one-on-one interactions with our students. We believe that the best place for a student to meet us is in their department for access to faculty, relevant information, and special events.
We utilize our central office for collaborative work, staff training and development, mandatory workshops, registration labs, and numerous specialized services. There, we can also assist students with general inquiries or urgent matters when their advisor is unavailable. If you are ever unsure where to go, feel free to ask our front desk or email asadvise@unm.edu. 
Our Administrative Staff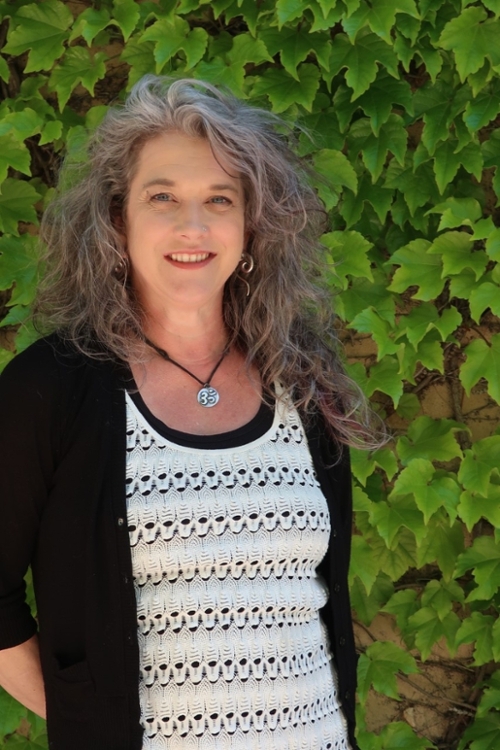 Stephanie Hands
Director
Advisors are teachers – they teach students how to navigate successfully through the university system. Advisors are navigators – they give guidance that enhances students' educational journey and personal development. Advisors are translators – they articulate for the student the language of higher education.
Stephanie has been at The University of New Mexico since she was 19 years old. She grew up on campus and in advisement. She previously supervised the University College Advisement Center and then moved to Arts and Sciences in 2004. She has a Bachelor's in Psychology and an MBA from Anderson School of Management. Her goal is to continuously improve Arts and Sciences Advisement Center's practices and policies to enhance the experience for the students. She believes that advisement is an active partnership between students, staff and faculty.
Joanna
M. Camacho Escobar, Ph.D.

 - Humanities and Interdisciplinary Studies
Supervisor
I believe academic advisors should meet students where they are; focus on their needs and goals to be successful at UNM and future career goals. I consider academic advisement centers as the anchors for student academic success in higher education institutions, especially for underrepresented students pursuing Arts and Sciences degrees. Academic advising is key to help you navigate UNM, we will show you the resources available to you and help you understand the requirements for your academic goals.  
I earned a B.A. in Secondary Education of History from the University of Puerto Rico at Rio Piedras and M.A. in History and Ph.D. in Borderlands History from the University of Texas at El Paso. I taught U.S. and Latin American history in universities in Texas and Ohio, and found my passion for academic advising in the Rio Grande Valley of Texas. I'm from Puerto Rico, the "Island of Enchantment" (La Isla del Encanto), and I fell in love with the "Land of Enchantment."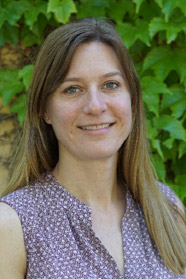 Meghan Lippert - STEM
Supervisor
Advising can help you discover all the resources that UNM provides for personalizing your educational experience and succeeding in your goals. After several years of experience in advising, teaching, and program coordination, I most enjoy working with students individually on goal setting and personalizing their educational experience.
I earned a BA and MS in Education from SUNY Fredonia before relocating to Albuquerque in 2007. I love nature! Hiking, kayaking, and relaxing in the mountains.
William McClary - Social and Behavioral Sciences
Supervisor
My life as a Lobo has resulted in many rewarding educational and professional experiences. I earned both my undergraduate degree in Journalism and graduate degree in American Studies from the University of New Mexico (UNM). I have advised several types of student populations and interpreted various degree programs since 2009. Although I believe that a multitude of advisement philosophies can be practiced with various students, I have found that the Humanistic Advising philosophy is applicable to all students, as it provides the ability to be relatable simply through the human experience in which helps reveal commonalities and establish trust. My admiration for corresponding academic success with effective advisement practices has afforded me the privilege of enhancing student achievement by remaining committed to the transformative stages of aspiring scholars. In the position as an Academic Program Support Manager for the College of Arts & Sciences, I aim to help structure an atmosphere that is conducive to the many aspects of higher learning.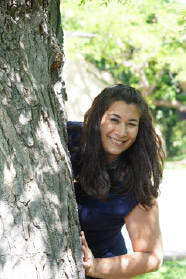 "OC"  Oceana Black Elk
Administrative Assistant III
School is never out for the pro! I enjoy helping others find and utilize the tools they need for success by using trusted systems and procedures that I find to be consistent and true. As the Admin Assistant, I make sure that our department is running smoothly and efficiently by making sure everyone has what they need: whether that be by ordering office supplies, or running reports to recognize issues and trends to improve processes for students. I believe that patience and understanding are critical strengths, as well as being detail oriented. I always try to stay positive, and am a true believer that your attitude has an incredibly large impact on those around you.
A second generation Lobo, I graduated UNM in 2012 with a BS in both Psychology and Evolutionary Anthropology. I enjoy plants, animals, baking, and ballroom dancing. My favorite quote is from Henri Matisse: "There are always flowers for those who want to see them."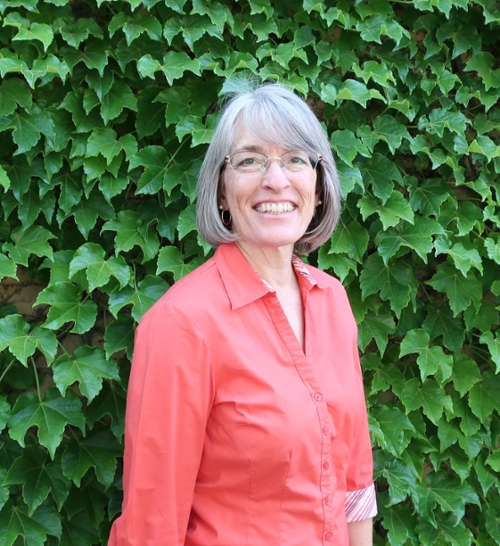 Danielle Isabelle-Berrien
Education Specialist, Mellon Transfer Initiative
Advisors wear many hats – that of guide, educator, and go-to resource person. As an Education Specialist, I have the great privilege of working with graduate assistants, staff, and faculty at both UNM and CNM in creating a pathway for students to more easily transfer to UNM's College of Arts & Sciences.
I was an advisor for 13 years in Tucson – at both the University of Arizona and Pima Community College. I have taught courses in student success, major exploration, and transfer strategies. In addition, I was a Career Services Director at a small state college in my home state of Vermont for two years. My participation and contribution to student services is an abiding passion! Lastly, I earned a BS in Family & Consumer Sciences from U Maine-Farmington and an M.Ed. in Counseling from Northern Arizona University. In my off-time, I enjoy nature walks, attending jazz or world music shows, crafting, and finding the next "best" gluten-free muffin or cookie recipe to bake!
I am part of the A&S Support and Success Group (SSGs):  SSGs support all departments, students and advisors by working on special retention and graduation projects.
"Bizzy" Elizabeth Yung-Fong Hemphill
Student Recruitment Specialist
As a Student Recruitment Specialist, my goal is to connect prospective and current students with opportunities that will help them grow and thrive! I want students to know what the College of Arts and Sciences at UNM has to offer and how the options available will help them achieve their academic, career, or personal goals. Email me or catch me on the road (whenever it's safe for me to travel again)!
I love learning, particularly about the complexities of different places. I take classes at UNM as a staff member, because why not? My interests are varied - my B.A. was in Sociology/Anthropology (Swarthmore College), with a focus on gender and sexuality, globalization/post-colonial theory, and East Asian studies, and my M.A. was in an interdisciplinary program called Visual Studies (UC Irvine), where I focused on the aesthetics of abandonment in the American West, including critical theory, photography, ecopolitics, and industrial history of California. I've also managed and taught at a rock school for kids, worked my way from a barista to regional training leader for a third wave coffee company, and helped re-open a historic hotel as a craft cocktail bartender. 
"Outside" is my favorite place, which I love exploring and photographing with my sweet dogs. In addition to exploring, I spend most of my time cooking, making music, consuming media, and metalsmithing.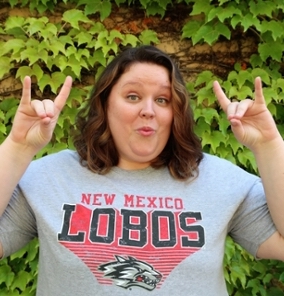 Sarah Peceny
Education and Development Manager
You don't know what you don't know until you know – so, all you have to do is ask! Lack of support and understanding, whether it be institutional, academic, technological, financial, emotional, etc., is often one of the greatest roadblocks to succeeding in higher education. I see it as my job to help guide you, the student, in understanding institutional information and requirements and share information on available resources, which can help you make educated decisions and navigate your own experience here at UNM!
The University of New Mexico has played a significant role in my entire family's life. In fact, I grew up in Albuquerque and on UNM campus (from the age of 5 years old) due to the fact that my father received a faculty position here at UNM way back in 1992. My family has been here ever since, and all of us have benefited from the amazing opportunities that this institution has to offer!
I received a BA in Latin American Studies and Spanish and later returned to complete my MA in Hispanic Linguistics. I spent time here as an undergraduate student teacher, a graduate teaching assistant, and finally as a Visiting Lecturer I and Assistant Program Coordinator in UNM's Spanish and Portuguese Department where I created and taught both face-to-face and online courses in lower-division Spanish. I am very excited to now occupy the role of Academic Advisor, so that I can continue to teach and serve UNM students and watch them pursue their dreams and reach their full potential, just as I did!