Perlman Named Director of UNM School of Public Administration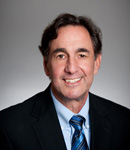 Posted: September 8, 2017
Bruce J. Perlman recently took over as director of SPA. Given the local, state and national attention SPA has received in recent years, Perlman is eager to continue fostering the school's growing reputation.
"You won't find a better program, not just in New Mexico, but in the nation," Perlman said.
Perlman received his Ph.D. in government from the Claremont Graduate School in 1980. After his initial appointment at the University of Southern California, he joined the University of New Mexico School of Public Administration as an Assistant Professor in 1982.
Read the full story at UNM News